Mountain biking as a sport is not for the faint-hearted. It is for those who want to taste adventure in its true sense. In fact, those who follow and practice it will vouch how addictive it can become. Mountain biking is not just about a thrilling experience; it is also about navigating difficult trails in the nature and feeling closer to it.  India is a favorite destination for mountain bikers because it has such a varied landscape. Be it forests or majestic mountains, or plains, India has it all for mountain biking.
Usually, bikers choose their preferred location for mountain biking keeping in mind several factors such as the natural beauty of the place, availability of different routes, cycling friendliness, accessibility of the place and of course safety. There are many places that organize and provide facilities for mountain bikers but here are 5 of the most loved mountain biking destinations in India.
1. Leh Ladakh
With its surreal surroundings, these are considered to be one of the best places for mountain biking. Riding in Leh also means that bikers get to bike till KhardungLa, the highest motorable road in the world. Leh also has some very tough mountains that offer a great challenging experience for bikers. Leh is also renowned world over for mountain biking and many famous bikers from all over the world have cycled in Leh. Biking here means you get to navigate difficult terrain, test your biking abilities and also you get to breathe in fresh air and be in the company of the country's most beautiful surroundings.
2. Manali
This beautiful town in Himachal Pradesh is also one of the most popular places for mountain biking. No wonder then Manali is referred to as the 'mountain biking capital of India'. For those who want to experience mountain riding to those who want to challenge the rider within them, all will find trails suitable for themselves. For riders who wish to bike till Leh, start from Manali. With its natural beauty and different trails suitable for all types of bikers, Manali is definitely one of the most desired and suitable locations for mountain biking.
3. Pindari
This is a place that is as challenging as it can get as it means riding through snow (Pindari is a glacier). Situated in the upper area of Kumaon Hills in Uttarakhand, it is located near the Nanda Devi peaks. There are absolutely amazing natural trails that pass through picturesque Himalayan villages and give you a thrill that you have never imagined. Biking through Pindari means you don't just overcome these beautiful trails but you also fill your senses with a freshness that you may never get to experience in any other part of the world. World-famous bikers often visit the place to enjoy the spectacular biking experience. This is also a great place for beginners to practise their skills as professional bikers offer guided tours to those who need it. Those who are really adventurous can even try to explore the yet-unexplored biking trails in the state.
4. Munnar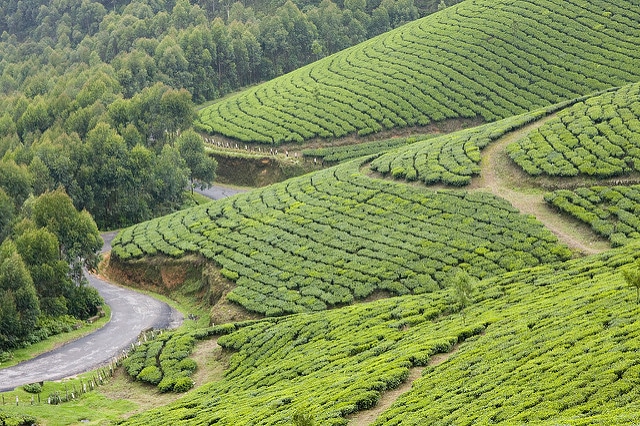 With amazing natural beauty, natural trails, beautiful tea estates, Munnar in Kerala is definitely one mountain biking destination that biking enthusiasts should visit. There are natural as well as man-made trails to make biking more enthusiastic and fun. That is why these trails are absolutely perfect for beginners as well as experts. Bikers get to navigate through some of the highest tea estates in the region. From Munnar, bikers can even undertake long distance expeditions either within the state or to any other part of the country. There are many organisations which provide guided tours for bikers to travel across Kerala.
5. Coorg
This beautiful town also known for its coffee plantations is a thrilling adventure sports destination. It offers a whole range of adventure activities for tourists. Located in the Western Ghats, Coorg is a place worthy for all kinds of bikers, from novices to the experienced. For bikers who wish to experience some of the most beautiful mountain trails, should head to Coorg. Also, the place is easily accessible from the state capital Bangalore. There are absolutely ravishing and great trails for bikers that pass through the coffee plantations of Coorg. Bikers can start from Honey Valley in Coorg and thus explore some of the best biking trails in India at Coorg. Take in the aroma of fresh coffee, revel in the greenery and bike as if there is no end. That's what Coorg offers.