The difference between usual skiing and Heli Skiing is that for the latter, a helicopter is used. Heli Skiing is for those who love high altitudes and are ready to face any challenge that comes before them. The helicopter leaves you on the top and from there you criss-cross the icy mountain to find your way down.
It is a very challenging sport and involves passing through unknown territories. You should choose an experienced operator for Heli Skiing expedition. Also keep safety as the paramount factor and do check all the details and get all the required information. Check the climate as during skiing period, there can be chances of weather getting turbulent. In India there are many places which are absolutely a delight as far as this sport is concerned. Here are the five places that are a must-try for Heli Skiing.
1. Pahalgam
This is a small town in Jammu & Kashmir and is also famous as a tourist destination. It is also famous for Heli Skiing. Beautiful scenery makes the experience all the more worth it. December to March is the time for Heli Skiing in Pahalgam as these are winter months and the snow is quite thick and abundant during this period. The snow in Kashmir is referred as the Curry Powder snow which means it is feathery and grainy. The moisture content is low, there is the freezing, melting and then again freezing which is the reason for corn sized snow which is a skier's delight.
2. Gulmarg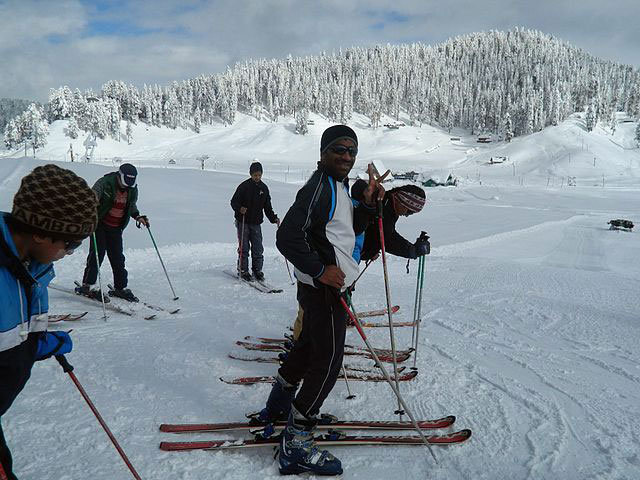 This is another popular destination in Jammu & Kashmir for Heli Skiing. Gulmarg is also listed as the 7th best place in Asia for skiing. It is also famous for many other winter sports. The Mount Apharwat that stands at an altitude of 4, 270 m is absolutely perfect for Heli Skiing. The silvery peaks that look heavenly with sun's rays on it, the snow covered pines and the abundance of ice make Gulmarg a preferred location for Heli Skiing.
3. Manali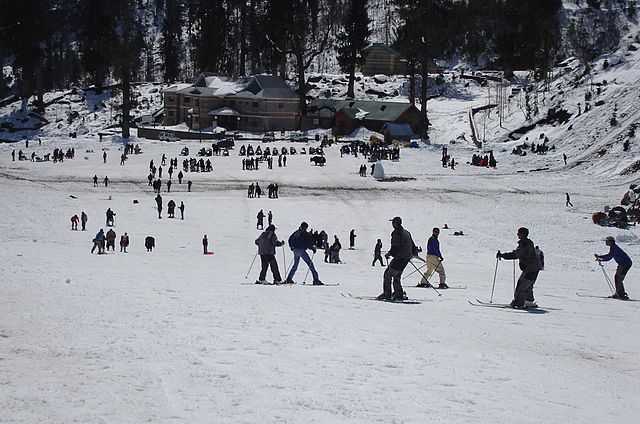 This amazing town of Himachal Pradesh is a serene hill station that offers great views. During winters, the peaks get covered with snow which makes it ideal for Heli Skiing. There are some amazing terrains that can be found at places such as Rohtang Pass, Hanuman Tibba, Deo Tibba and Chandrakhani Pass that gives a great Heli Skiing experience. You can fly at a height above 6000 m and then glide towards snow plains, feeling and adrenaline rush and a feeling of a rare achievement. January and February months are the best time to visit Manali for Heli Skiing.
4. Solang Nala
This picturesque valley in Himachal Pradesh is absolutely perfect for beginners as well as experts in Skiing as there are workshops here to learn the nuances of skiing as well as tournaments to attend to. The winter months are of course the ideal time to visit Himachal Pradesh for an exciting Heli Skiing experience. Solang Nala is referred to as the snow point and has many snow-covered mountains. There are enough bends and ski lifts making it an ideal location for Heli Skiing. The gentle slopes, smooth edges, and ski slants make Heli Skiing in the valley an amazing experience. There are also skiing tours that it offers which you can try. Another reason to try Heli Skiing at the Solang valley is that there are many skiing competitions which are held here during winter months, which means during the period, you can witness some of the most amazing Heli Skiing moments here
5. Munsiyari
This is a place that is suitable for skiing because of the ice covered mountains. In fact, the word 'Munsiyari' means 'a place with snow'. Located at a height of 7,200 ft, this is a skiing paradise. There is the Khaliya Top, and Betuli Dhar where Heli Skiing can be undertaken. There are amazing slopes, shining mountains and natural beauty that make Munsiyari absolutely a haven for Heli Skiing. Since skiing is one of the most loved tourist activities, this place in Uttaranchal offers great avenues for Heli Skiing. The winter months from December to February are most suited for Heli Skiing in Uttarakhand.