Visitor Information
Famous For: Natural beauty, religion, photography
Entrance Fee: No chargeable fees
Visiting Time: Best after sunset
Visit Duration: 2 to 3 hours
Chandak in Pithorgarh, India is located in the popular tourist state of Uttarakahnd, and is counted among this country's offerings of the most beautiful places. It is a mountain, atop which a temple by the name of Manu is located. There is also a monastery nearby, and all of these are included within the Soar Valley. The popular tourist activities here include adventure sports too. The views obtainable from here are some of the most beautiful, and it is best watched when night falls and celestial light is reflected in various colours, lending it a painting like feel. There are also long walking and climbing trails that are unique and an essential part of the Pithoragarh experience. It is visitor friendly almost two thirds of the year.
Traveller Tips
Wear shoes and clothes suited to long walks and trekking.
You do not need to remove the shoes for temple entry.
There are bathroom and storage facilities available.
Do not trek or walk if you are not physically up to it.
Things to Do
Explore the hill, monastery, valley and temple, all in one tour.
Learn of connected histories and legends.
Indulge in local shopping.
Photograph as much as you want to.
Some most popular adventure sports to try out are hang gliding (possibly one of the best locations for that) and trekking.
Try out the local cuisine styles.
Availability of Guides
Guides are an integral part of the tourist experience in Pithoragarh, Chandak, and make sure you have someone near at hand with complete knowledge of the locality for the best information. Guides are sometimes available locally for hire, and they charge rates depending upon time or agency. Also, some tour companies take hired guides along on the completely paid package. If not, you can always engage some locals to guide you, provided they speak your language.
Best Time to Visit
Summers in Pithoragarh are a pleasant breakaway from the excruciatingly hot Indian summers, by virtue of location and proximity to hills. The months of April-June are the best time to pay a visit. Monsoons are not that preferable, since heavy mountainous rains make for impeded communication, heavy showers obstruct sightseeing and there are natural risks of phenomena like landslides.
How to Reach
By air, Pithoragarh in Uttarakhand can be reached either through the closer Naini Saini or the Pantnagar airport, the latter being connected through domestic flights from important destinantions like Delhi. By rail, the nearest station is Tanakpur, which has good connectivity to all parts of India. By road, Tanakpur provides access to Pithoragarh as well, and there are a variety of conveyances like buses and taxis ferrying you to and fro neighbouring towns.
Interesting Facts and Trivia About Chandak
It is bounded on all 4 sides by 4 different hills, the Chandak, Dhwaj, Thal Kedar and Kumdar.
The local cuisine is highly acclaimed.
It has borders adjoining Indian neighbours Nepal and China.
It provides a mediating pathway to popular pilgrimage spots like Kailash and the Mansarovar Lake.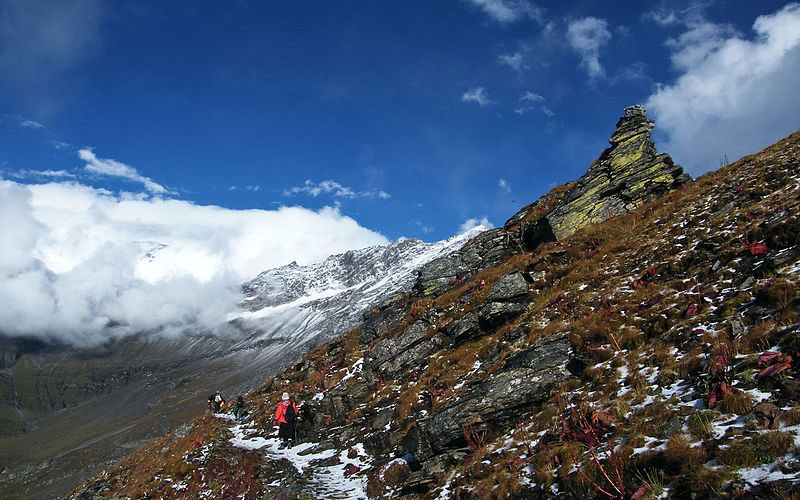 Nearby Attractions
The Milam Glacier, famous for views of hills and snow and popular for adventure sport like backpacking or trekking.
The Nanda Devi National Park, famous for the indigenous flora.
The Pindari Glacier, for backpacking and natural beauty.
Panchuli, for natural beauty and mountaineering.
Nearby Restaurants
The Milan Onway restaurant, offering good, healthy food and opulent decor.
The Atithi Restaurant, famous for its tasty momos, a must try on your visit here.
The Meghna Restaurant with lively interiors and a comfortable ambience.
Chandak in Pithoragarh, Uttarakhand is a supreme place to visit if you are looking for spectacular visuals, mountains, adventure, religion and good food all in one go, as this place offers it all. You get momos, peeks into the Himalayan peaks, backpacking opportunities, and sharing borders with countries to top it all off. So why wait? Book your tickets, and head to the Naini Saini!