Located in the picturesque Yumthang Valley, Shingba Rhododendron Sanctuary is considered one of the best sanctuaries in the land. The beauty of the valley is enhanced by Yumthang Chu flowing through it. The valley in itself spellbinds you with its alpine meadows, rich greenery, hot springs and many glacial streams running through it.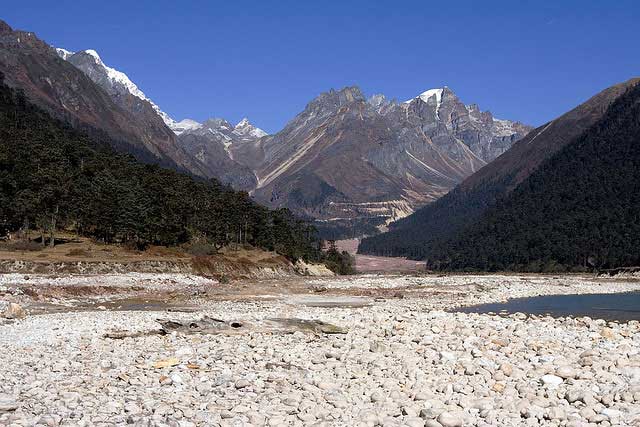 The 43-sq.km land of Shingba Rhododendron Sanctuary at varying altitudes ranging from 3048 meters to 4575 meters has a rich variety of rhododendrons. Over 40 species of rhododendrons are found here. Some other species seen here include saxifrages, gentians and primulas. The sanctuary is so rich in flowers that Yumthang Valley is also called as the Valley of Flowers. Some of the wildlife seen here includes goral, hill partridge, blood pheasant, spotted linsang and serow.
The temperature is very cool between November and February with January being the coldest month in this part of the world. If you would like to dare the cold climate to enjoy heavy snowfall, you may want to be here during these months. August and September months are not to be considered to travel to this place as heavy rain plays foul and the roads are nearly inaccessible. April and May are the ideal months to visit the sanctuary to enjoy the striking beauty of the blooming flowers. When in full bloom, the sanctuary challenges the best of flowerbeds all over the world. The majestic mountains at the backdrop, the sanctuary looks breathtakingly beautiful with a variety of flowers in the most unimaginable range of colors.