Gangtok is known throughout India and beyond as a capital tourist spot to capitalise on. Gangtok is mostly in tourism news for the wonderful natural scenery, the smatterings of Buddhist culture strewn casually all over the place and the otherworldly feel of the cosy town in all its hospitality. Gangtok has monasteries and lakes, gardens and mountain passes, and a beautiful thrilling ropeway to offer you a glimpse right at the heart of the mountains sitting inside a glass cube. To enjoy all this splendour, plan a trip to Gangtok during winter (around December), or even during autumns (October onward) – both are quite congenial.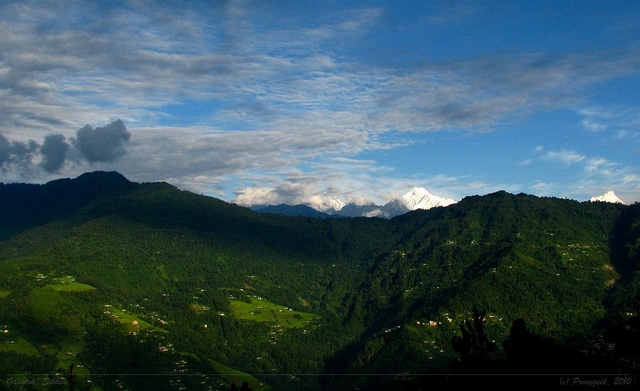 Gangtok has five seasons in one trip around the Sun, typical of hill stations.
The proverbial spring arrives at Gangtok in full bloom. Spring is a pleasant time throughout the world, so don't expect it to be any different in Gangtok. The countryside is full of beautiful flowers like magnolias, and the flower show held this time in Gangtok is considered the best in Asia. It is cold and rainy at times, and very popular with tourists.
Months        
Conditions  
Our Recommendation
May to June
Summers are the most preferable time by all the tourists, the environment being very pleasant. One should go for river rafting.
Popular Tourist Season

 

October to November
Great time for visiting Gangtok.
Ideal Time

 

March to April
Climate is cool and calm during spring, with clear sky. You will enjoy sightseeing and other tourist activities.
Ideal Time

 

December to February
Winters are extreme here, fog and snowfall causes roadblocks, due to which it is very less preferred by most of the tourist.
Off Season
July to September
Heavy rainfall causes landslides, but no doubt the surroundings look stunning with all the greenery and fresh air. Some of the famous festivals also take place during these months.
Off Season
Summers in Gangtok are beautiful in a lot of ways. Tourists stay on till about June, till when the weather is on the cooler side and you can have fun sightseeing. There are rains and storm sometimes, typical of the tropics. But the real surprise comes latest in June, mysterious mists-enhancing the Goth-fairytale feel.
Monsoons in Gangtok are as rainy as can be expected of a generally watery place. The dampness and mist gives way to showers that sometimes turn powerful and thundering. Landslides are a sometimes frequent, dangerous incidence coinciding with this time. But all the rains give way in turn to a general setting chill towards when September begins to end.
Autumns are when Gangtok properly puts on all its exotic beauty. The skies are clear, making for enjoyable sightseeing and heavenly views abounding all around, and the weather starts getting progressively colder. This season again, is a hit with tourists.
Winters in Gangtok are very cold but do not experience frequent snowfall-its very rare. It becomes cold enough for tourists, even locals to flee during the hardest times, but winter festivals like Christmas and the New Year are rung in with much pomp and grandeur. Skies continue remaining clear.
How to Reach Gangtok
You can fly to this gorgeous location from through the well-known Bagdogra airport, and can also drive to Gangtok from around the same place. The railway station is the equally famous New JalPaiguri (NJP) Station, providing a passageway to other notable tourist destinations like Darjeeling, and well connected to places like Kolkata. The drive to Gangtok is pleasant, and the roads convenient except in few spots along the way.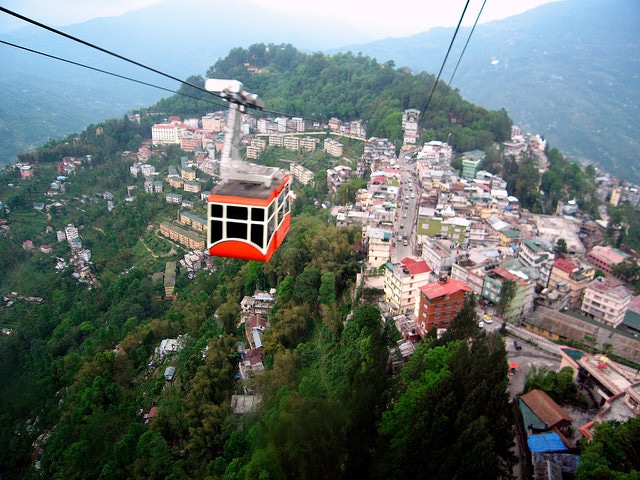 What to Do and See in Gangtok
The historic and famous pass that connects Gangtok to Tibet.
Dedicated to Lord Hanuman of the Ramayana, a park that also has potential to delight history lovers.
Namgyal Institute of Tibetology
Perhaps the most notable in Gangtok's assortment of prominent monasteries, it has to display Buddhist culture and a museum for tourist benefit.
Another monastery with splendid architecture as an added plus.
The ropeway ride for a memorable foray into the heart of the hills.
The famously beautiful Khecheopalri Lake.
Gangtok is one of the cosiest yet most endearing tourist spots of India, one that combines Buddhist culture with adventurous ropeway rides with elan. It has something for the architecture, history, nature, Buddhism and adrenaline lovers and seekers, rolled into one-this is one vacation that's in no way going to disappoint you. So, whether it's the winter beauty of landscape you're seeking, or colourful flowers in their bloom of beauty and health and life, you better make use of this weather guide to plan ahead and make things right. So, go ahead and dive right in!