Visitor Information
Famous for: Nature, Adventure, Photography, Trekking.
Tickets: No entry fee.
Opening Timings: Open all days from 10am to 4:30pm.
Duration: 1 day.
Cradled by the rich cultural legacy of both India and Nepal, Jhula Ghat is a small village which serves as a dividing border between India and Nepal. The place is ideal for the perfect vacation getaway in Pithorgarh and is quite different from other tourist destinations. It is quite and serene and is a lesser known tourist spot.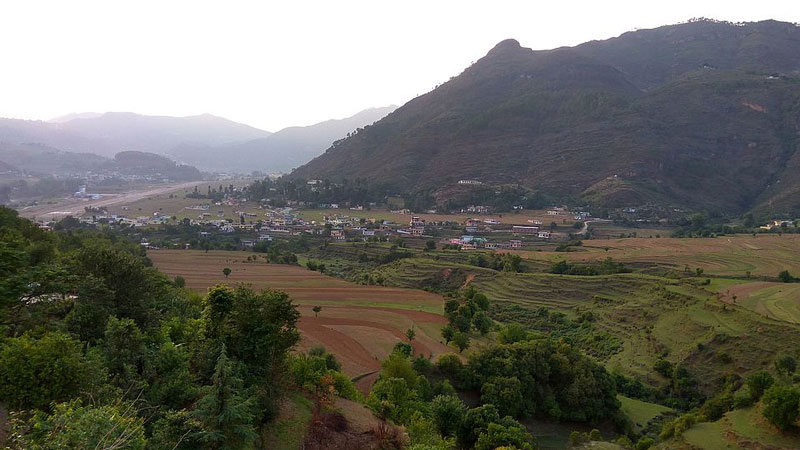 Traveller Tips
Make sure you carry a first-aid kit with you especially if you have children or elderly people with you.
Make sure you pack accordingly to the season.
Things to Do
Pay a visit to the Taleshwar Mahadev Temple and Tripura Sundari Temple
Mahesani Mandir is also a major attraction in the village.
You can spend some time in the Nepal border.
You can go for rafting, swimming, canoeing and boating in the Kali River
Plan a picnic for your loved ones on the banks of the Kali River.
The Pitoragarh-Jhula Ghat Road is ideal for a road trip.
Availability of Guides
The guides can be availed in plenty from the district of Pitoragarh or from Almora. You can also avail local guides from Jhula Ghat itself.
Best Time to Visit
The summers in Jhula Ghat can be quite mean with heat waves tormenting you. The winters could be a bit mean and the major attraction- River Kali freezes up and there goes your chance of swimming and rafting. So the months from mid-May to mid-October are the ideal time to visit Jhula Ghat.
How to Reach
You can get down at Kathgodam Railway station in Almora and from here you can travel to Jhula Ghat by road. Or you can get down at Tanakpur and hire a cab to cover the 58 kms between Tanakpur and Pithoragarh. From Pitoragarh you can avail local transportation to the village of Jhula Ghat
Interesting Facts and Trivia about Jhula Ghat, Pitoragarh
Jhula Ghat is an international boundary between India and Nepal.
It is 36kms away from Pitoragarh in the state of Uttarakhand
The Lok Sabha Mandal for Jhula Ghat is Almora.
You can cross the hanging bridge suspend over Kali River and visit Nepal. It is quite an experience.
The place got its name from the suspension bridge that hangs across the Kali River.
Nearby Attractions
Taleshwar Mahadev Temple
Tripura Sundari Temple
Baithari Market
Nearby Restaurants
Athithi Griha Restaurant
Kiran Da Dhaba
Apsara Sweets
Meghna Restaurants
Milan Onway Restaurant
Cakes and Pizzas
Himalaya Bakery
If you are expecting extravaganza and luxury, then I doubt that you will find that in Jhula Ghat the village and its people instill a humble sense of serendipity in you. Even the nature is tamed and rarely runs wild in Jhula Ghat This is definitely something different that you have to try out the next time you plan a vacation.