Covering an area of around 849.5 km2 and located at an elevation of 1,829 meters to 8,550 metres, Kanchendzonga National park is also a Biosphere reserve and one of the few high altitude national parks in India. The park is covered with vegetation that includes temperate broadleaf and mixed forests consisting of oaks, fir, birch, maple, willow etc. The vegetation of the park also includes alpine grasses and shrubs at higher altitudes along with many medicinal plants and herbs.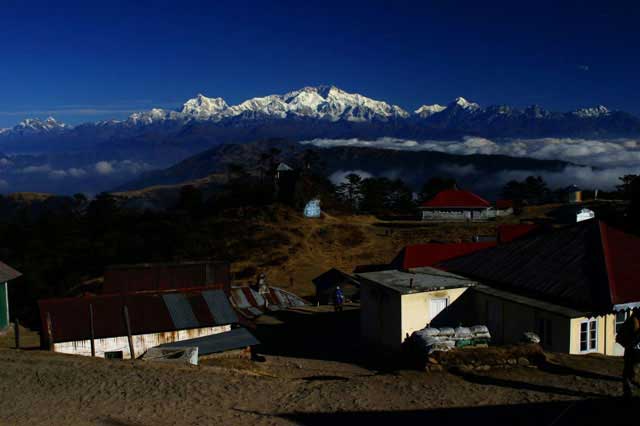 The park contains a varied species of fauna which include musk deer, snow leopard, Himalayan Tahr, wild dog, sloth bear, civet, Himalayan black bear, red panda, Tibetan wild ass, Himalayan blue sheep, serow, goral and takin and the rare Asiatic wild dog, the wild dogs in the Kanchendzonga Biosphere Reserve are believed to belong to the rare and genetically distinct subspecies C. a. primaevus, as well as reptiles including rat snake and Russell's viper.
The park also contains a vast amount of avifauna, with over a 550 species of birds, which include Blood Pheasant, Satyr Tragopan, Osprey, Himalayan Griffon, Lammergeier, Tragopan Pheasant, Green Pigeon, Tibetan Snowcock, Snow Pigeon, Impeyan Pheasant, Asian Emerald Cuckoo, Sunbird & Eagle. Apart from the rich fauna, the park boasts of its various trekking sites, with most trekking routes beginning from Yuksom.
Necessary permits can be obtained at Wildlife Education and Interpretation center at Yuksom or from the check-post. The best season to visit this national park is between April to May, as the snowfall is heavy during the winter months and monsoon showers occur between May to mid October. Foreign nationals would require a restricted area permit from the Ministry of Home Affairs, Government of India, Delhi to visit the park and the associated region. Indian nationals are required to obtain an Inner-Line Permit from the State Home Department. Permission of the State Chief Wildlife Warden is also mandatory for everybody visiting the park.